Featured Exchange Student: Enrico Carbonetti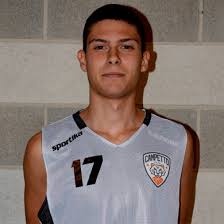 Hang on for a minute...we're trying to find some more stories you might like.
Enrico Carbonetti is an exchange student at Wayne City High School this year.  He prefers to be called "Enri," and his host family includes Twilla King, his host mother, and Jaxon King, his host brother.  He is from Osimo, Italy.  Enrico is seventeen years old and is currently a senior.  His mother is a teacher, and his father is an accountant. He has one older brother, who is twenty one. He told us that he absolutely loves dogs and has one golden retriever back in Italy.  
We asked Enrico what the biggest difference between Italy and the United States was and he commented, "The biggest difference is the school because here it is more simple and the teachers are more open with the students, while in my country it is the opposite.  Also another difference is the food."  Enrico's favorite food that he has tried so far here in the United States is a chicken sandwich.  "I have not thought about my future yet," he replied when asked what he wanted to do after his exchange year.  
This year, Enrico is playing basketball, and for the first time he is trying baseball.  He said "I am looking forward for basketball more than baseball because I have played it since I was five years old, and it is also my favorite sport."  He is looking forward to trying baseball as well.