Vicki Maxey: Preschool Extraordinaire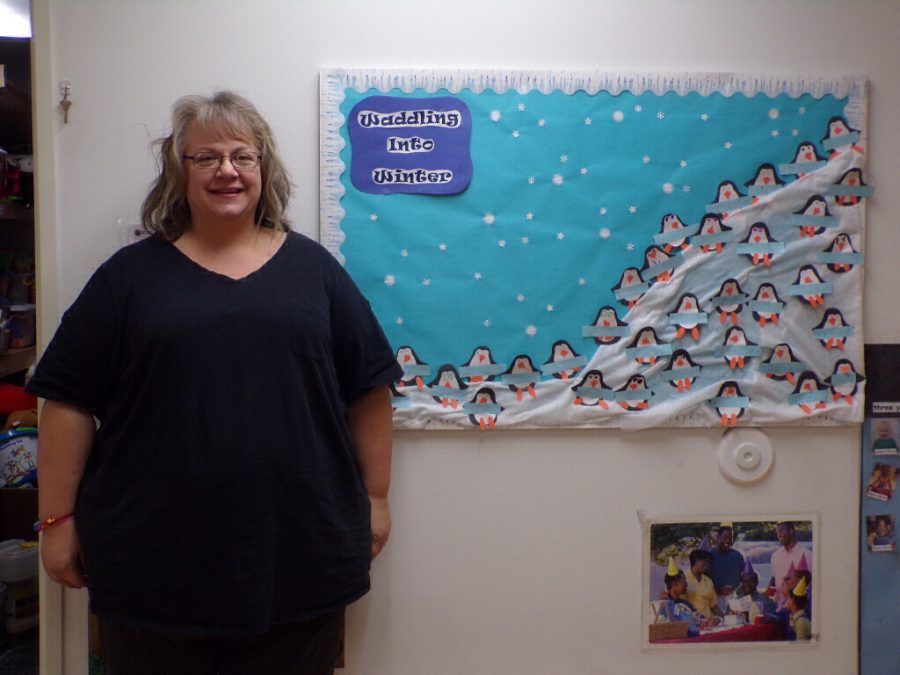 Vicki Maxey, preschool teacher at Wayne City Early Learning Center, wanted to be a nurse when she grew up. It wasn't until her first child, Zach, was preschool-age when she thought, "Maybe I do want to work in a childcare setting." Vicki feels like her friends may have had a little bit of an influence on her decision concerning her career choice by telling her how great she was with preschoolers.
Childcare can be a messy field, but Vicki loves the excitement of her preschoolers' learning and the rapid progress they make each day. For Vicki, working at a preschool is exciting as well as frustrating. Usually, preschool is a good thing, though, because it is different every day, and the class spends time both inside and outside. "An advantage to working as a teacher for three to five year old kids is that class time is shorter and there are different students in the morning and afternoon. Another advantage is the parents will have involvement with the children like playing and helping them with their educational needs since the children are at such a hands-on stage." Although Vicki has quite a few advantages, she also has some disadvantages like parents having higher expectations on their children's learning capability and pushing them too hard. Another disadvantage is her students' attention span, "It's hard to keep them all seated on the rug and quiet when it's time to learn." 
Vicki Maxey would like to tell anyone thinking about going into the early childhood education field to make sure they have a good understanding in development so they don't push the kids too hard. Adults need to learn to let things go while teaching a lesson, because they have to work with the atmosphere in the room that day. 
Vicki Maxey has a real gift when it comes to children in preschool. Anyone who walks into the classroom can tell that Vicki puts a lot of time and effort into making sure the environment is good for the kids. Parents, siblings, and other relatives are able to walk in and see that the room is safe, organized, and child friendly, and the children are excited to learn.