DuQuoin State Fair: Fun, Food, and Festivities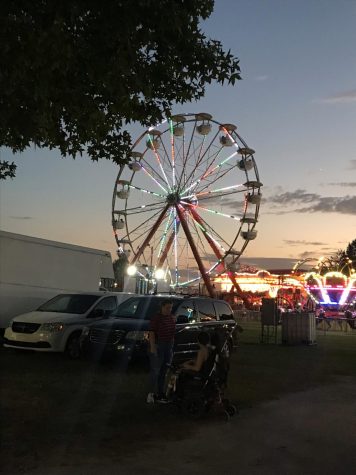 The DuQuoin state fair started on Friday, August 28 and will continue through Monday September 6, with many rides, concerts, and attractions. According to www2.Illinois.gov, the fair grounds are located on US Route 51 in DuQuoin, Illinois. Weekdays the fair grounds are open from 2 p.m. to midnight and on weekends and Labor Day, it is open from 10 a.m. to midnight. Parking is $10 to $15, depending on the entrance. Along with the rides and concerts, there's all kinds of food vendors, where attendees can get elephant ears, funnel cakes, and all sorts of fair food.
When asked her favorite part of the State fair, 3rd grade teacher Mrs. Lisa Jackson said, "I look forward to going to the DuQuoin State Fair every year! Our favorite part of the fair is the variety of food. We stop at many vendors but our favorite is Lane's Concession. We have to have at least one cheeseburger, corn dog, elephant ear, and lemon shake up every time. I love to go in the evening when it is cooler and the lights are on the rides! The DuQuoin State Fair is one of our favorite things to do as a family to kick off the fall season!"
According to www2.Illinois.gov, new attractions to the fair this year there are fireworks and the Clydesdale horses. There are several concerts at the Fair, including En Vogue, REO Speedwagon, Hardy, Ludacris, Riley Green, JJ Grey and Mofro, Jamey Johnson, and comedian Ron White. Tickets range from $15 to $30.