Turtles Duct Taped and Stuffed in Suitcases
Caitlyn Dickey
March 14, 2019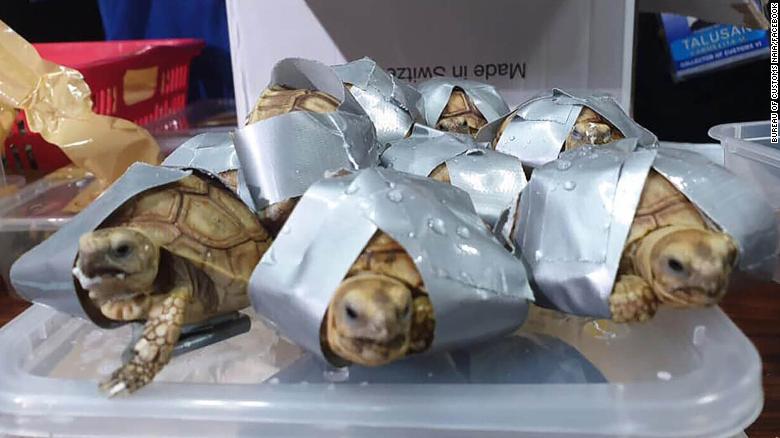 More than 1,500 live exotic turtles have been found wrapped in duct-tape and packed into suitcases at an airport in the Philippines. These animals had a total worth of 4.5 million Philippine pesos ($87,000) and were probably set to be sold. They had smuggled them onto a flight in Hong Kong and were found in four unclaimed pieces of luggage at Manila's Ninoy Aquino International Airport.
Three of the different species were found- the star, redfoot, African spurred tortoises- and are frequently sold as part of the illegal exotic pet trade. The fourth, red-eared slider turtle, is commonly kept as a pet around the world. A lucrative black market for rare turtles exists in Hong Kong, where poachers frequently set traps for the animals, despite all wild turtles being protected by law. The Hong Kong government says anyone found with an endangered species faces a maximum fine of 10 million Hong Kong dollars ($1.3 million) and 10 years in jail, and the Philippines has similar laws too.
"Early this year, 63 Iguanas, Chameleon, and Bearded Dragons were also intercepted through the efforts of vigilant frontliners and operatives of Customs," the Philippine Bureau of Customs said. Check your luggage the next time, and make sure you do not have any turtles in there with some clothes and different personal items.
https://www.cnn.com/2019/03/04/asia/philippines-turtles-duct-tape-suitcases-scli-intl/index.html